New Image Linen Service opened its doors in September 2010 with the goal to bridge the gap between cost and customer service in the linen industry.
As a local, family owned Michigan business, we pride ourselves in providing the most outstanding customer service to our clients, at the most competitive prices, while operating ethically and honestly - as you should always expect.
Invoicing and contracts are always clear cut and easy to understand, and there is always a knowledgeable party available to answer any questions you may have.

---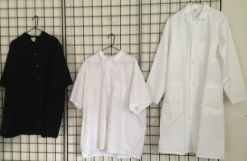 Restaurant Services:

We offer bib & bistro aprons, kitchen apparel such as chef coats and check pants, towel products such as bar mops, kitchen towels, dust and wet mops, as well as entry mats, scrapers and logo mats.
---
---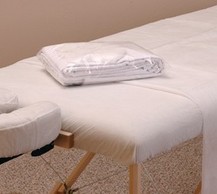 Health Care Services:

We service many salons, spas, chiropractors, and massage therapists with quality towels and sheets. We offer many different options based on your needs.

---
---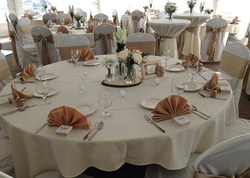 Banquet Halls, Golf Courses, Churches & More!

We offer table linens and linen napkins in a variety of colors!
Table Linen Sizes:
41x41 52x52 62x62 72x72 85x85
90x90 52x92 90x132 52x114 90x156
Rounds:
90" 108" 120"
*If you're unsure of which size to chose, we will help you chose the right top to fit your needs!*
---
---
Specialty Events:

We provide "call in" options for special events such as weddings, graduation parties, baby showers, and other events needing that special touch linens can provide. We offer a wide variety of color options and sizes for table tops and napkins.
---
---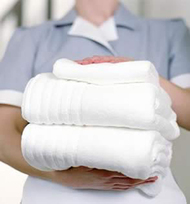 Not Our Goods:

Some customers will own their own towels, garments, and linens but may not have the capacity, time, personnel, or the proper chemicals to clean them. That's no problem - we offer an economical service to many businesses by cleaning their goods for them, and returning them sorted and wrapped, ready for use.

---
---
Disposable Products:
We offer great pricing for all of your disposable needs, such as:
Hard Wound and Center-Pull paper Towel
Jumbo Roll and Household Roll Toilet Tissue
Air Fresheners
Multiple foam and liquid soap options
Trash Can Liners in clear, blue, and black in multiple sizes
Disposable Dinner Napkins & Beverage Napkins
Vinyl Gloves, Souffle Cups, and More!
*Dispenser comes free while you purchase our paper products!*
---